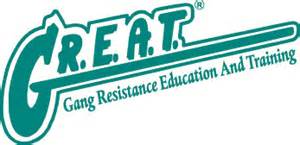 Tell City Police Department Project G.R.E.A.T.
Gang Resistance Education And Training,
abbreviated G.R.E.A.T., provides a school-based, police officer instructed program that includes classroom instruction and various learning activities. This program is taught by a police officer which offers many advantages. They have a wide range of experience in recognizing and combating criminal behavior, they have the ability to recognize gang members, they are equipped with a referral knowledge, and most importantly they can be a positive role model to students. This program is sponsored by the Tell City Chapter of the Knights of Columbus. Chief Derrick Lawalin is the facilitator of the program which is conducted at William Tell Elementary with its Sixth Grade Class.
*Mouse over or click on image above to learn more.
Topics
13 Important lessons to include the following:
Welcome to G.R.E.A.T.: A Gang and Violence Prevention Program
What's the Real Deal?: The Real Deal on Gangs and Violence
It's About Us: Being Part of the Community
Where Do We Go From Here?: How to Set Goals
Decisions, Decisions, Decisions: Making the Right Choice
Do You Hear What I Am Saying?: How to Communicate Effectively
Walk in Someone Else's Shoes: Thinking of Others
Say It Like You Mean It: Some Ways of Refusing
Getting Along Without Going Along: Dealing With Peers
Keeping Your Cool: Managing Your Anger
Keeping It Together: How to Calm Others
Working It Out: How to Solve Conflicts
G.R.E.A.T. Days Ahead: Applying Your G.R.E.A.T. Skills
Please submit below to learn more.